Notre Marque...
Découvrez l'essence de la liberté de mouvement avec MAYLI JAY' votre destination ultime pour des vêtements de fitness en wax imprimés à la demande.
Choisissez parmi une palette de motifs dynamiques et de couleurs éclatantes pour créer une garde-robe de fitness qui reflète votre énergie et votre style. Notre technologie d'impression vous assure des pièces uniques, conçues exclusivement pour vous, alliant performance et esthétique africaine. Affirmez-vous à chaque séance d'entraînement, embrassant la fusion harmonieuse du fitness et de la culture.
Nous avons ce qu'il y a de mieux
Nos designs sont travaillés avec des outils professionnels de pointe pour un rendu d'impression optimal. Nos vêtements ne sont coupés et cousus qu'après que vous ayez passé commande.
En savoir plus
"Des vêtements de haute qualité, uniques, confortables et durables, confectionnés juste pour vous"
Innovation et Ethique
En créant des vêtements au designs originaux et intemporels avec un principe de production éthique, nous continuons de soutenir notre engagement à la durabilité.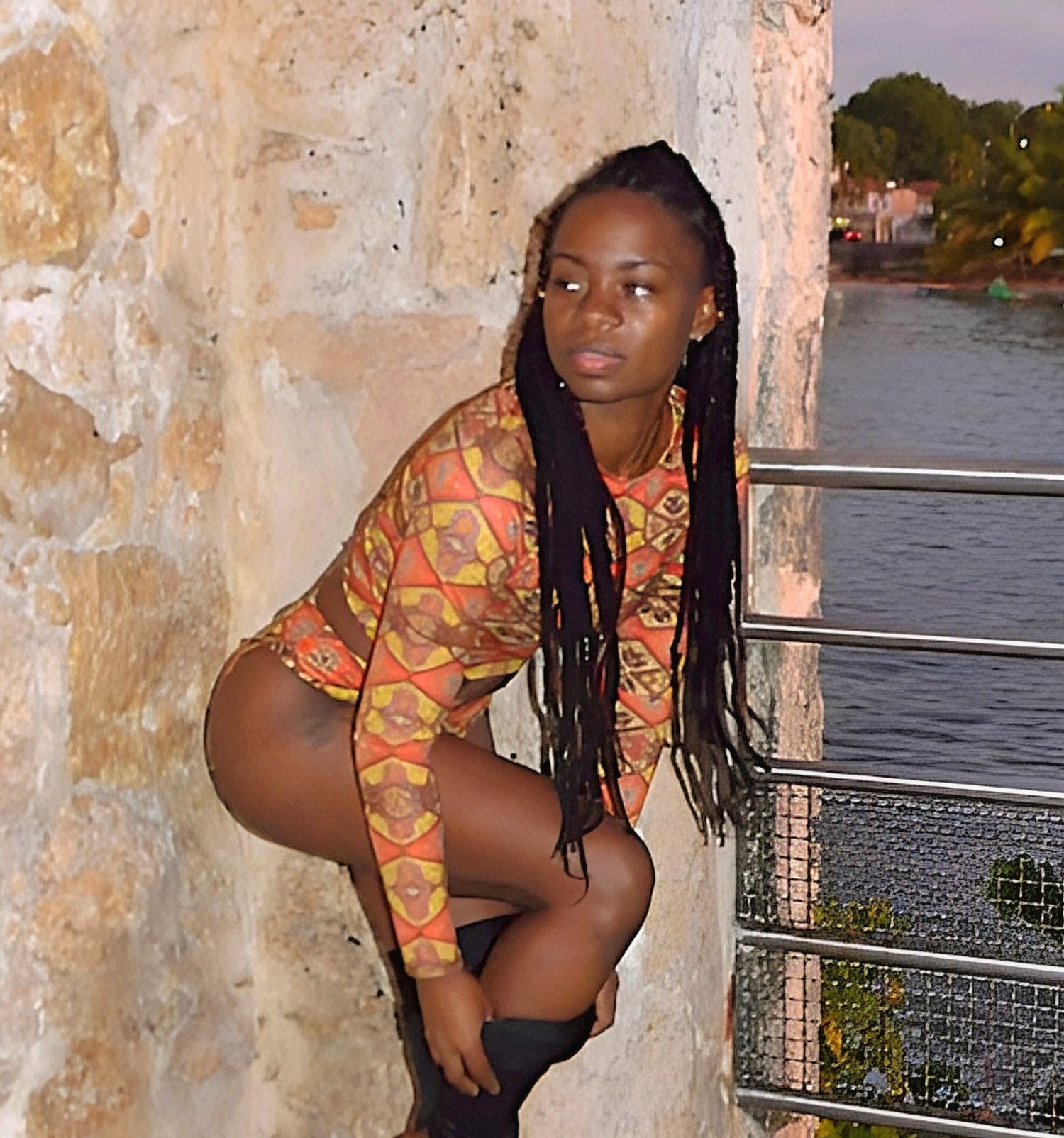 Black Owned
La créatrice derrière la marque MAYLI JAY' a illustré son amour pour la mode et le e-commerce en créant cette marque qui est à la fois audacieuse et féminine.
"Je souhaite accompagner les femmes dans leur évolution vers une version satisfaisante d'elles même."
Maman de deux enfants et à un tournant de sa vie professionnelle, elle décide de donné vie à son rêve d'entreprenariat. MAYLI JAY' est née de son amour pour ses enfants, dont les prénoms ont inspirés le nom de la marque. 
Privacy policy
SECTION 1 - PERSONAL INFORMATION COLLECTED
When you make a purchase from our store, as part of our buying and selling process, we collect the personal information you provide, such as your name, address and e-mail address.

When you browse our store, we also automatically receive the Internet Protocol (IP) address of your computer, which allows us to obtain more details about the browser and operating system you are using.

E-mail marketing (if applicable): With your permission, we may send you emails about our store, new products and other updates.
SECTION 2 - CONSENT
How do you get my consent?

When you provide us with your personal information to complete a transaction, verify your credit card, place an order, schedule a delivery or return a purchase, we assume that you consent to our collection and use of your information for this purpose only.

If we ask you to provide your personal information for any other reason, such as marketing purposes, we will ask you directly for your express consent, or we will give you the opportunity to decline.


How do I withdraw my consent?

If, after you have given us your consent, you change your mind and no longer consent to our contacting you, collecting your information or disclosing it, you may notify us by contacting us at contact@mayli-jay.com
SECTION 3 - DISCLOSURE
We may disclose your personal information if we are required to do so by law or if you violate our Terms and Conditions.
ARTICLE 4 - SHOPIFY
Our store is hosted on Shopify Inc. They provide us with the online e-commerce platform that allows us to sell you our services and products.

Your data is stored in Shopify's data storage system and databases, and in the general Shopify application. Your data is stored on a secure server protected by a firewall.


Payment:

If you make your purchase through a direct payment gateway, then Shopify will store your credit card information. This information is encrypted in accordance with the Payment Card Industry Data Security Standard (PCI-DSS). Your purchase transaction information is retained for as long as necessary to complete your order. Once your order is finalized, the purchase transaction information is deleted.

All direct payment gateways comply with the PCI-DSS standard, managed by the PCI Security Standards Council, which is a joint effort of companies such as Visa, MasterCard, American Express and Discover.

The requirements of the PCI-DSS standard ensure the secure processing of credit card data by our store and its service providers.

For more information, please see the Shopify Terms of Service here or the Privacy Policy here.
SECTION 5 - SERVICES PROVIDED BY THIRD PARTIES

Generally, the third party vendors we use will only collect, use and disclose your information to the extent necessary to perform the services they provide to us.

However, some third-party service providers, such as payment gateways and other payment transaction processors, have their own privacy policies regarding the information we are required to provide to them for your purchase transactions.

With respect to these suppliers, we recommend that you read their privacy policies carefully so that you can understand how they will handle your personal information.

Keep in mind that some providers may be located or have facilities located in a different jurisdiction than you or us. Therefore, if you decide to proceed with a transaction that requires the services of a third party supplier, your information may be governed by the laws of the jurisdiction in which that supplier is located or the jurisdiction in which its facilities are located.

For example, if you are located in Canada and your transaction is processed through a payment gateway located in the United States, your information used to complete the transaction could be disclosed under U.S. law, including the Patriot Act.

Once you leave our store site or are redirected to a third party website or application, you are no longer governed by this Privacy Policy or our website's Terms and Conditions of Sale and Use.


Links

You may leave our website by clicking on certain links on our site. We assume no responsibility for the privacy practices of these other sites and recommend that you read their privacy policies carefully.
ARTICLE 6 - SECURITY
To protect your personal data, we take reasonable precautions and follow industry best practices to ensure that it is not lost, misappropriated, accessed, disclosed, altered or destroyed in an inappropriate manner.

If you provide us with your credit card information, it will be encrypted through the use of SSL security and stored with AES-256 encryption. While no method of transmission over the Internet or electronic storage is 100% secure, we follow all PCI-DSS requirements and implement additional generally accepted industry standards.
COOKIES

Here is a list of cookies that we use. We have listed them here so that you can choose whether or not you want to allow them.

session_id, a unique session identifier, allows Shopify to store information about your session (referrer, landing page, etc).

Shopify_visit, no data retained, persists for 30 minutes since last visit. Used by our website provider's internal statistics tracking system to record the number of visits.

shopify_uniq, no data retained, expires at midnight (depending on visitor location) the next day. Calculates the number of visits to a store per unique customer.

cart, unique identifier, persists for 2 weeks, stores your shopping cart information.

_secure_session_id, unique session identifier

storefront_digest, unique identifier, undefined if the store has a password, it is used to know if the current visitor has access.
SECTION 7 - AGE OF CONSENT
By using this site, you represent that you are at least the age of majority in your state or province of residence, and that you have given us your consent to allow any minor in your care to use this website.
SECTION 8 - CHANGES TO THIS PRIVACY POLICY
We reserve the right to change this privacy policy at any time, so please check back frequently. Changes and clarifications will be effective immediately upon posting on the website. If we make any changes to the content of this policy, we will notify you here that it has been updated, so that you will know what information we collect, how we use it, and under what circumstances, if any, we disclose it.

If our store is acquired by or merged with another company, your information may be transferred to the new owners so that we can continue to sell you products.